'Cautious optimism' lifting expectations in the property market
'Cautious optimism' lifting expectations in the property market
The commercial property market has gained momentum across all sectors during the year thanks to historically low interest rates, high investor demand and government moves to dampen the heated residential market, according to John Urlich, Barfoot & Thompson's Commercial Manager.
Writing in the company's second Commercial Insite portfolio for 2021, Urlich says the outlook for the economy has improved over the last six months and the forecast remains cautiously optimistic. However, he warns: "The potential impact of the COVID-19 pandemic on both New Zealand and our key trading partners remains a persistent risk. Further, it limits our ability to reopen our borders to overseas travellers. This obviously impacts some of the country's critical revenue streams such as hospitality and tourism."
Urlich says while the economy has continued to outperform expectations, inflationary pressures have seen a slightly premature end to the Reserve Bank's quantitative easing policies. "This has already led to an increase in interest rates of late. The ongoing effect this will have on the commercial property market is something investors and lenders will be mindful of and in turn-key property fundamentals will be even more significant."
Overall, Auckland should perform better than some regions, Urlich says, introducing 28 properties in the portfolio – 5 for sale by tender, 6 by auction, 1 through deadline private treaty, 13 for sale and 3 for lease.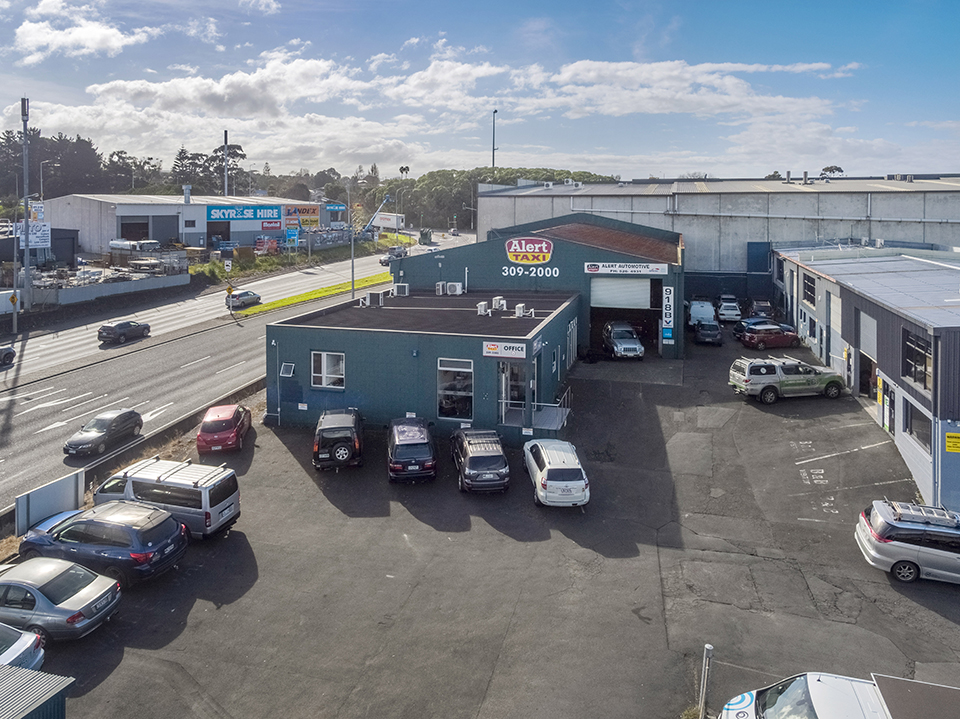 Properties for auction include 918B Great South Rd, Penrose, a prominent industrial site of approximately 662sq m that is fully tenanted, has huge street profile and ample car parks. Improvements include a warehouse of approximately 405m², a warehouse office of 86m² and a 185m² office and amenities.
The property is currently leased to Alert Taxis and a subsidiary. The warehouse is leased to Alert Automotive Ltd at $64205.66 per annum, the office to Alert Taxis Ltd at $39,401.87 per annum and signage to Alert Taxis Ltd at $22,538.38 for a total $26,135.91 per annum. The leases begin a new 3-year term tomorrow, with a further 3-year right of renewal taking them through to a final expiry of 1 August 2027.
Zoned Heavy Industrial, the rectangle-shaped site has a slight slope along its length, with the building at ground level with a northwest outlook to the road.
Great South Road is a major arterial linking Penrose with suburbs such as Greenlane, Ellerslie and Otahuhu. 918B is located directly at the Great South Road-Church Street intersection.
There's a wide range of surrounding commercial and industrial activities including warehousing, manufacturing, production, commercial offices and trade retail. The area is a popular business hub due to its central locality and easy access to the motorway network and inland port.
James Marshall and Nick Wilson, from Barfoot & Thompson Commercial's industrial sales and leasing team, are taking the property to auction at 10am on Wednesday, 18 August 2021 at 34 Shortland Stret, Auckland Central (unless sold prior).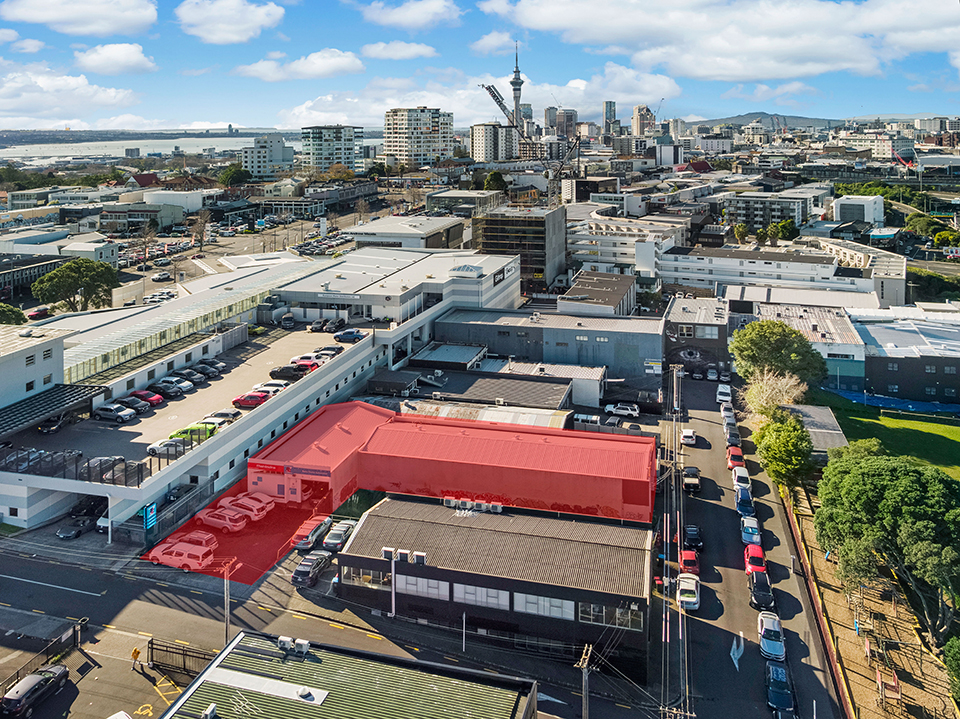 There are not too many secret places left in Auckland City but this Grey Lynn property could be one of them - you walk into the building on 8 Burns Street and walk out the other end at 30 Monmouth Street.
Although the L-shaped warehouse site looks to have been built as one structure about 1974, there is a clear delineation between the two buildings.
According to Murray Tomlinson of Barfoot & Thompson Commercial, "Once you get inside, the possibilities on how you would use the property start coming to mind very easily. Do you subdivide into the two street frontages, or do you convert one warehouse to offices and showroom and leave the other as warehousing?
"There will be multiple ways that owner-occupiers and investors will look at this raw product."
The freehold property is zoned Business – Mixed-Use and has 6-8 car parks, depending on how the site is used.
Burns Street runs off Great North Road, its entry flanked by Giltrap Porsche and McDonalds Restaurant, and onto Monmouth Street. Newton Primary School occupies most of the southern side of Monmouth while the surrounding properties and location are city-fringe office and warehousing undergoing transformation into mid-rise residential due to the zoning, allowing investors or owner-occupiers to work with the location and buildings to create live-and-work environments.
The property is currently leased to Barry Clark Automotive Ltd at $106,191 for a two-year term from 1 September, with final expiry at 31 August 2023.
Tomlinson is presenting the property for sale by tender closing at 2pm on Wednesday 18 August (unless sold prior) at level 3, 50 Kitchener Street, CBD.
A significant landholding on popular Barrys Point Road, Takapuna, is for sale by tender.
Superbly situated at the Esmond Road motorway on-ramp, adjacent to a council reserve, the freehold property at 74 Barrys Point Road boasts 1189m² of flat, Mixed Use-zoned land. Improvements comprise a two-level building of approximately 850m² and 25 on-site car parks.
The ground floor contains four office suites and storage which will be handed over with vacant possession. The first floor is leased to Performance Divers Ltd at $71,000 per annum, expiring 1 May 2022.
While the property is currently returning $110,000 rent per annum, market estimates are in the region of $216,500 per annum. Further, the height of the building provides for great signage exposure to Esmonde Road and the gateway to Barrys Point Road.
Elaine Tutty, Nick Brown and Max Andrews of Barfoot & Thompson Commercial, who are marketing the property, say investors will note an opportunity to gain a significant rental income in the short term while the site is exceptionally well located for future redevelopment with uninterrupted CBD views.
74 Barrys Point Road is for sale by tender closing at 4pm, Thursday 26 August at Barfoot & Thompson Commercial, 129 Hurstmere Road, Takapuna.