Inspiring people through innovative workspaces
The impact of a work environment reaches far beyond the office walls and furniture; people's behaviour and experiences can be fundamentally changed by physical space. Amicus shares how they help companies realise the dream of both physical and behavioural change through strategy, design and fitout.
Content created by our friends at Amicus
Workplace strategy and the impact of environments on creating a healthy and productive culture is now globally the starting point for workspace projects. It reaches far beyond the office walls and furniture; people's behaviour and experiences can be fundamentally changed by physical space.
Organisations are embracing the fact that workplaces have a lot of power over how employees think, feel, behave, and how we understand our purpose during the day. A whole new world of workspace consultation is taking place to accommodate better productivity, engagement, talent attraction and retention because there is simply no escaping the power of a working environment and the effects it can have on employees and their organisations. We know that when people feel inspired by their work environment and the experiences they have there, they'll want to inspire others.
At Amicus we work with our clients to define, design, deliver and delight with inspirational workspaces that invigorate and energise people and entire organisations.
Our approach is to accompany our clients through a positive transition and help them to rethink how workspaces can inspire employees and customers.
We are partnered with FourFront Group (UK), Ware Malcomb (USA) and Summertown (UAE): Together they make up "The United Workplace" who all offer their clients workplace strategy expertise - and we share amongst each other the growing trends from around the world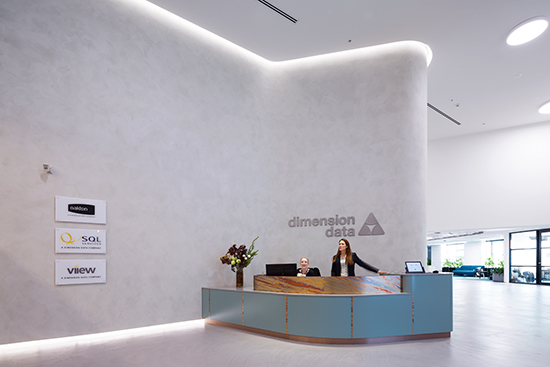 Case Study: Dimension data
Amicus prides itself on looking after our Clients for Life. One of our most important and cherished clients is Dimension Data, who in 2017 embarked on a journey to change their culture and to become more collaborative, supported by state of the art technology with a focus on 'mobility and cloud' first.
Concurrently Dimension Data decided to relocate their 6,000 sqm branch from a heritage building in The Rocks, to Darling Park Sydney. The tenancy boasts over 4 floors, a large central atrium with stairs and dedicated lifts.
The move and cultural change created a total mind shift, which was driven by Pete Murray, Regional Director at Dimension Data and Amicus' Workplace Strategy team.
Amicus were engaged to deliver an end to end solution including Workplace Strategy and Design & Construction.
We worked together in a number of areas:
Workplace Strategy
Office Selection
Office Design
Project Management
Construction Management
Furniture Procurement
Laboratory Solutions
Our partnership ensured a successful move and welcome of employees to their new workspace in May 2018. We will continue to support the Dimension Data Team for the life cycle of this fitout, and for life!
To learn more about Amicus, please contact [email protected]