Five reasons you need an interior designer for your office fit-out
Great interior design for your office fit-out can help your business in ways from saving money to supporting staff health and well-being.
Brought to you by our friends at Outline Design
As your business evolves, you may be contemplating whether your existing premises still suits your needs. You may have large empty spaces, you may be struggling to fit staff in, or perhaps your space just feels a bit dated or tired.
A period of change can provide a terrific opportunity to take a fresh look at what kind of working environment is going to be needed to help your business meet both its immediate and future needs.For many, engaging the services of a professional Interior designer will be viewed as an integral part of the evolution of your business. Others, however, may be asking themselves "Is it worth the investment?"
Here are five great reasons why you should consider appointing a professional interior designer for your next refurbishment or fit out project. Remember, like any significant business decision, do your homework, request capability documentation, review previous work and ask for references.
1. Save money
By following a proven process and tapping into expertise, working with a designer should mean better budget control. You should not only get a fit out that is fit for purpose but one that stands the test of time. Remember everything in the space needs to be available longer term should you want to expand.
Professional interior designers will have a solid history with contractors and suppliers (including for furniture and fittings). These relationships should allow the designer to pass on both quality and pricing guarantees. Don't forget that even though the designer might make a margin, you'll likely be getting the product at a better price than if you purchased it directly.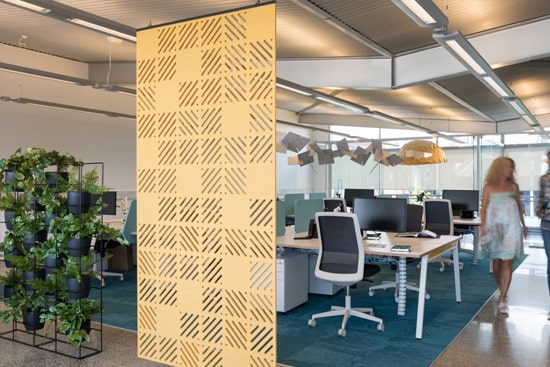 2. Improve efficiency & productivity
In addition to saving money, an interior designer will take time to understand how team members carry out their work and how departments interact. They will research how your team can best collaborate to achieve optimal performance as well as what style of environment would best inspire your staff. Designing and space planning to meet these needs will positively affect both efficiency and productivity.
3. Entice & retain both staff & clients
Don't underestimate the power of a well designed, inspired workspace. It will appeal to job candidates who place importance on their work environment and surroundings, and it will also impress clients, helping set your business apart from less progressive competitors.
4. Support staff health & well-being
Research everywhere supports what our natural instincts tell us – that employees who feel good at work, work longer, are more productive and are much less likely to leave an organisation. A professional designer will ensure that an office interior balances functionality and well-being requirements.
5. Express your company culture
Company culture can be defined as the collective values of an organisation. A good interior designer will work closely with their client to understand 'what makes them tick' and provide recommendations on how to bring the culture to life. This could be done simply by providing communal spaces for collaboration or by using colour and wall decals to express the brand visually.
Outline design is a leading commercial interior design firm.
For an inspired workspace contact: Victoria Wilkes at Outline Design