Tips for improving your kerb appeal
When buying a home, first impressions really do count. A tired exterior and neglected garden is often all it takes to put buyers off coming through the front door. Luckily there are plenty of quick, easy and inexpensive things you can do to improve how your home looks from the street.
1. Make an entrance
Your front door is one of the first things buyers see, so make sure it looks inviting.
Dress it up with a new coat of paint and consider adding a bold street number that matches your home's unique style.
Buyers value privacy, so if you've got a clear glass door, think about replacing it with something opaque or solid.
Is your garden path crooked? Make sure you fix any broken or uneven concrete, and rid your path of moss or mildew - it should be clean and not slippery.
2. Fix your fence
If your fence is looking a bit worn, give it some TLC. Make sure it's standing up straight and any grass around the bottom is trimmed and tidy.
Use a water-blaster to remove dirt or mildew and think about giving it a fresh coat of paint or stain if it needs it.
3. Go green
A well-tended front garden creates instant appeal and is a great way to show buyers that your home is worth a look.
If you're not sure what to plant, go with low maintenance shrubs - New Zealand natives are ideal. Think about how you can create a sense of privacy and calm.
Bark or crushed shells can be used to cover any patches of bare earth, and rocks, railway sleepers or bricks make inexpensive garden borders.
Don't have a garden? Add some colourful pots or planter boxes. Herbs, perennials or succulents are a good option - they add colour and fragrance. A staggered, asymmetrical arrangement helps to create a dynamic setting.
4. Spruce up your windows
This could be as simple as making sure your windows are always kept sparkling clean. Consider what's on the inside too. Nicely hung drapes or blinds add a homely feel.
Peeling frames can give buyers the impression that the house has not been looked after. Wooden windows need to be regularly maintained and painted to prevent deterioration and water ingress.
5. Replace gutters and downpipes
If your home has old an guttering system, there's a good chance it's suffering from broken joinery, mildew, rust or peeling paint.
Older styles can often be replaced with easy to install, snap-fit systems. Whatever style you choose, the guttering should blend in with your home, matching or tying in with the roof and fascia.
Maintaining and repairing your guttering not only keeps your home looking great, it also prevents leaks and long term water damage.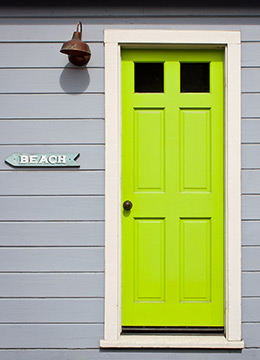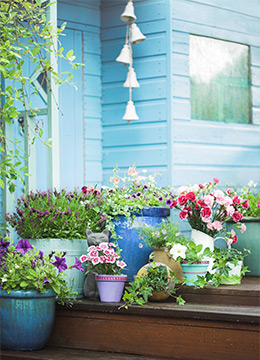 Getting ready to sell?
Here's some more information to help you get your property ready for the market: